Main Site Page | Lisa's Stories Page | Lisa's Intro Page
---
Welcome to Lisa's Update Page!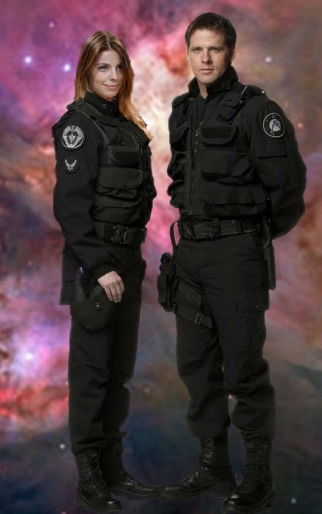 (Manip by Yak)
Check here often for updates on the latest stories of the Cam/Jessie saga!
If you're interested in being on the mailing list, and notified of any new stories posted, please click here. (Mailing list members receive advance notice of posting dates/times.)
(wallpaper by Gloria)
November 15, 2012
Hey everybody!
Remember me? Probably not, I've been off the radar for such an extended period of time. Yes, after a VERY long wait, I can say that the final story in the Shadow series is complete. A Promise Kept wraps up all those loose ends I left lying around. I apologize for it taking so long, but the real world was more than demanding for quite a while.
I hope you've enjoyed this alternate universe I created for Cam and Jessie. I'm going to take a break from writing for a little while in order to tackle a couple of DIY home remodeling projects. After that...who knows? We'll see what The Muse has up her sleeve after getting covered with paint, sawdust and plaster.
Thanks for putting up with all my time delays, and for all the encouragement you've given as I've taken my baby steps as a writer. It's been a blast.
October 21, 2010
Hey everyone!

I hope the start of Autumn finds everyone healthy, happy, and enjoying the cooler weather. I just wanted to post a short update--yes, I'm working on the final story. In fact, it's three quarters of the way done. I'm hoping to have it up before winter sets in, although I won't set that in stone with the give and take of the real world. The next update you'll see from me will be an announcement of "A Promise Kept" being posted.

Until then, take care...

June 2, 2010
Hello!
Bet you thought I had gone and disappeared, huh? Nope, I'm still here, and while the real world has tossed in some surprises since I last posted an update, I've also been diligently working on the story. How diligently? Well, it's done! Yes, I know...will miracles never cease? *Grin*

This one is definitely the darkest of the three "shadows". I promise, the next story will completely wrap everything up. The Muse has a twisted sense of humor, but she promises to leave nothing "undone".

So, don't kill the messenger...I'm just the fingers for the keyboard. I've already started the last story, tentatively called "Second Chances". The Muse and I will get it to you as soon as possible. In the meantime, A Storm of Shadows, the third part of Thoyetlini's prophecy, is now ready for your reading pleasure.

December 31, 2009
Hey everyone!
I hope any and all holidays you celebrate have been a joyous time for all. We just celebrated Christmas in our new home, and enjoyed entertaining family and friends, giving presents, etc. As the holidays wind down, I have one last present to deliver…to you.
I finished "A Prophecy of Shadows". I know I had said earlier in the year that the three stories following "The Wolf and The Raven" were going to be 'short' stories. And, "A Shadow Past" was short. However, the Muse had an entirely different opinion on the length of this story. I tried to keep it short, I really did. But the Muse kept adding a little bit here, a little bit there, until the darned thing snowballed into a full-length story. Things aren't looking any better for the following one, either, as far as it staying short…it's not going to happen. But, since I'm settled in at my new residence I'm hoping the next one won't take quite as long to write.
So, here it is, the second part of Thoyetlini's prophecy. I hope you enjoy it, and here's wishing everyone a Happy New Year!
October 3, 2009
Hey everybody!

I hope the beginning of fall finds everyone healthy, happy, and enjoying cooler weather. I have a couple of announcements I'd like to make. First of all, my real estate journey from hell is finally finished. We found and moved into a new home, and just concluded the transaction of selling our former home. To say that a weight has been lifted from my shoulders would be the understatement of the century.

Second, and more importantly, the SFA's have announced their winners. I'm absolutely tickled to let you know Renee won an SFA for Steps Back In Time in the SG-1 Fan Fiction > Ship > Daniel/Other > Angst category, Robin received an honorable mention for The Devil In The Details in the SG-1 Fan Fiction > Ship > Daniel/Other > Action/Adventure category, and I won an SFA for Coming Home in the SG-1 Fan Fiction > Ship > Other Pairing > Romance category!!!

I am completely humbled and honored to receive this award. You see, it's a miracle I began writing at all. If not for Robin's and Renee's encouragement in the beginning, some spiteful and hateful things that were said about my writing would have succeeded in stopping me in my tracks. My friends, however, would not let me buy into that mindset and kept encouraging me, never letting me give up. This award means so very much to me because it completely dispels the negativity that was directed towards me and other writers due to jealousy. One shouldn't have to tear others down in order to make themselves look/feel superior...at least that's what common sense dictates.

That concludes the life lesson for the day. *Grin* With my real estate adventures now completed, I'm hoping to have more time to devote to finishing up A Prophecy Of Shadows. Lord knows, the Muse is jabbering like crazy!

To all the readers out there, THANK YOU so much for your feedback and support. It means more than you'll ever know.
August 24, 2009
Hey everybody!

Yes, I'm still around. I apologize for the length of time since my last update, but I was moving a family of four from one house to another. Anyone who has experienced that knows how it will eat up time, and brain cells. We've almost finished sprucing up the old house to put it on the market, and have unpacked about 80% of our boxes at the new house. Plus, school has started again, and a routine has been re-established, so to speak.

With that routine, I'm finding more time to work on the next story, A Prophecy of Shadows. The Muse has been talking nonstop, and didn't seem to take notice that I was B-U-S-Y. *Sigh* But, I did manage to jot notes down, and I'm diligently working those into the story. Having that little bit of 'me' time is nice, and I'm hoping things will move along much quicker now.

For those readers who were nice enough to vote for our stories in the Stargate Fan Awards program, thank you! And for the multitude of new readers finding us through the nominations list, welcome! Kick back, relax, and enjoy the unique Stargate saga as told by three different storytellers, who happen to be very close friends. *Grin*
June 16, 2009
Hey everyone!

I just wanted to post a quick update--a really quick one, since we're in the middle of moving to a new home. *Grin* I'm sure you all have read about the site updates posted in Robin's Corner, and the wonderful job the resident TCO artist has done in creating enhancements to the stories, allowing you to read notes and messages as if you were peeking over the shoulder of the character. Below is a list of stories/chapters in my corner that have been "tweaked".

Favors...chapters 11 and 12
Karma...chapters 5, 11 and 12
Coming Home...chapters 1, 2 and 6
A Shadow Past...chapter 1

The Muse is continuing to whisper at a furious pace, and I jot down notes in between loading boxes and climbing stairs. So, work is continuing on the next story; and a couple of ones after that. (The Muse has a twisted sense of humor).

A big thank you to Yak for the wonderful work she did, and another big thank you to the readers who make writing the stories that much more enjoyable!
May 27, 2009
Hey there!

I hope this update finds everyone getting ready to enjoy a fun-filled summer. Life has been going pretty good on this end, and it looks like we've found ourselves a new house. I'm trying not to count the chickens before they're hatched, but if everything goes smoothly we'll be packing up and starting on a new adventure soon.

Speaking of adventures, I'm happy to say I've finished "A Shadow Past". It's the first in a series of three "short" stories, events that were foretold by Thoyetlini in The Wolf and The Raven.

(And I promise, anything I've left unexplained at the end will be fully revealed in the next story). Thanks for hanging in there with me!
April 10, 2009
The Official debrief of the TCO Executive Conference.
After Renee recovered from the novelty of snow falling, recon commenced. Primary mission to get the lowdown of the terrain and to establish relations with the natives of the far away place known as Vancouver.
Upon receiving word that all was clear, the remainder of the team arrived. Travel started later than planned due to an equipment procurement problem. This was quickly dealt with, as higher levels of management were able to settle the issue before heads rolled. Once needed equipment had been received, Robin and Lisa proceeded to the rendezvous point.
The meeting progressed into full party mode from the first moment of contact. [Important warning to be noted: should future contact be made medical treatment may be required for aching stomachs, ribs and cheeks due to constant fits of laughter. Earplugs to be provided as a courtesy to all rooms on the entire floor due to the rather loud exuberance of our party...er...conference, which lasted well beyond midnight each night.] New friendships were formed, discovery of surprising mutual acquaintances were made and did we mention there was laughter? (There was so much it bears a second mention!) After two days of having been turned loose to run around Vancouver, it was back to TCO headquarters.
In between all the chatting and laughing and playing tourist, there has been much discussion about story plots and character development and we even managed to do some research. We're most excited to announce that there will be a wedding coming up, but we're not going to say which characters or which story corner are going to tie the knot.
At this time, rumors are already flying about a repeat conference, whether or not this will be achievable will be dealt with in future meetings, depending upon next year's budget approval. It should be noted that the natives were most willing to see the team return at a future date.
March 16, 2009
Hello everybody!

Yes, I'm still around. *Grin* Life has been extremely busy on all fronts lately, and unfortunately it doesn't show any signs of slowing down. As a result, it has put a huge kink in my writing (and not in a good way). I either have no time, or when I do manage to carve out a few minutes here or there, I was staring at a brick wall, also known as writer's block. The key word is "was".

After realizing there was no way I was going to be able to put all the thoughts bouncing around in my head into one story in a timely manner, I decided to break it down...way down. The first snippet is called The Wolf and The Raven. It's just a glimpse into what's coming up for Cam and Jessie. There are three stories ahead, dealing with past, present and future events. Thoyetlini called them "shadows", but the Muse hasn't decided what the titles will be yet.

So, this will be kind of like getting individual courses, instead of the whole meal at once. I'm hoping by doing it this way, I'll keep the creative juices flowing, and my sanity (or what's left of it) intact. More to come...hopefully sooner rather than later!

December 21, 2008
Merry Christmas!

I hope this update finds everyone healthy, happy and enjoying the holiday season. Work continues on the next story, although the Muse has decided to make a hard right turn and take the scenic route. The subject matter was completely unexpected, but the Muse thinks it's necessary, so I'm not arguing; I know better than that, lol!

Here's wishing everyone a very Merry Christmas, and a New Year filled with happiness and fun adventures. Stay safe, and Merry Christmas!!
October 30, 2008
Hey everybody!

No, I haven't fallen off the face of the earth, though at times I've wondered if that was the case. The remodeling project is taking a "round-about" route--certain things fell through, other opportunities opened up, so for about the next four to six weeks we'll be in a holding pattern before we see what pans out. Writing? That's been a hit or miss. Too much stuff going on in the real world for me to completely devote my time to the gang. But, that hasn't prevented the Muse and the gang from having a constant conversation with me!

So, I'm going to try a new tactic. The next story, or two, will be a short one, compared to the other three I've posted. I know where I'm at, and where I need to be, but the getting there is driving me crazy! I'm hoping by cutting it down into a short tale or two, maybe I'll be able to get the creative juices flowing once again, despite the real world sucking up all my time.

I haven't forgotten about Cam and Jessie. There's more to come...sooner hopefully than later!
July 24, 2008
Hello everybody!

Yes, I know, it's been a long time coming, but I finally managed to finish the next story, in between the demands of the real world and launching a major remodeling project. "Coming Home" is now ready for your reading enjoyment.

There's another story in the works and it will get done eventually, one of these days. It just depends on how long my home resembles a war zone with the construction going on.

Thanks so much for sticking with me, and I hope you enjoy the continuing adventures of Cam and Jessie! *Grin*
July 1, 2008
I was saddened to learn of the passing of Don S. Davis, well known as the beloved character of General George Hammond, or as Master Bra'tac referred to him, Hammond of Texas. Mr. Davis certainly brought a wonderful character to life, and one couldn't help but see his true personality shining through into the fictional General.

For all the entertainment you provided, Mr. Davis, I say a heartfelt thank you, and I wish you Godspeed on your continued journey.


Don S. Davis
August 4, 1942
June 29, 2008
May 23, 2008
Hey everybody!

At first I wasn't even going to mention this, but after some thought I figured I should explain, since y'all aren't mind-readers out there. *At least, I hope not!*

During the first week of May, I received a notice from the Blue Moon Awards staff that my story, Favors, had been nominated for a Blue Moon Award. To be honest, I was blown away that someone had taken the time to nominate something I wrote, and I thank them from the bottom of my heart.

However, when I went over and looked at the Blue Moon Awards site, and what kind of stories they were looking for, I ended up declining the nomination as I feel my story does not meet the criteria of "adult themes" the BMA program is seeking.

I do not feel comfortable being associated with a program that specifically seeks stories containing incest, golden showers, etc. While the stories I write contain explicit sexual content, you will never find any of the characters humping their relatives, or urinating on their partners.

For people who write those kind of stories, the BMA's are there to recognize them. I'm just not one of them, and is the reason I declined the nomination for this particular program.

As a side note, work continues on the next story with Cam and Jessie--in fact, that's what I'll be doing today. The tale was stretching out a bit, so I decided to break it into two stories. I'm finishing polishing the first one, and hopefully it'll be ready soon!
May 13, 2008
Voting is now open for the 2008 Skiffy Awards!

How to vote? Go to http://z3.invisionfree.com/Techiedom If you haven't registered before, you'll need to do that in order to vote. Don't worry--it's free, and easy. Once your registration has been validated (usually doesn't take too long), you can vote. Click on the Skiffy Voting sub-forum, scroll down (past the 'archives' sub forum) then choose the category you want to vote in (they are all listed as polls, but this is where you vote). Read the stories (links provided at the bottom), choose which one you like the best and vote in the poll.

You only get ONE vote in each category! There's no way around this, so make sure you're certain of that vote!

There are a lot of good stories in the running, so go pick your favorites and make someone smile. :)
May 6, 2008
CONGRATULATIONS SKIFFY NOMINEES! Yep, the official nominee list for the Skiffy Awards came out today...here is a list of those stories that were nominated for the authors of TCO:
Lisa: Karma
Favors
Renee: A Vision From Next Door
Steps Back in Time
Christmas Memories
The Blonde, the Redhead and the Archaeologist(s)
Popcorn Doesn't Lie

Robin: It's Hard to Say Goodbye
When Two Hearts Collide
The Blonde, the Redhead and the Archaeologist(s)
Trio of Blessings
Christmas, Malls, and Jaffa
Twenty-Four
Hell is for Children
There are others that I would like to mention; ldyanne's work is found in the Stargate Atlantis category, and Kikki's in the Supernatural category:
Ldyanne: Memories of a Night Not Lived
Six Ways Rodney Finds Out Teyla is Pregnant
Knocking At Death's Door
Words Spoken in Silence
The Good Sheppard
Kikki: Bullies
Five Reasons Dean Ran
Thanks to everyone who nominated stories, and I wish the best of luck to all. So hurry on over, voting starts May 15th, and you'll need every moment you can get to enjoy this buffet of goodies!!
May 1, 2008
Good morning, everyone! You were probably wondering if I had fallen off the face of the Earth—nope, I'm still around, alive and kicking. The real world has been extremely busy, not just with the everyday activities of two kids, work, etc, but we have been working on painting the exterior of the house, having a storage building built, getting ready for a remodel, on top of hubby studying for his promotional exam.
However, I just wanted to let y'all know that yes, I am in the midst of working on the next story. It is coming along nicely, except for the occasional detour into research purgatory, where I seem to lose inordinate amounts of time. I swear, it starts with one simple question, one little detail I need to confirm, which leads to another question, another detail, and whoosh—a couple of hours down the drain.
I'd love to be able to give an estimate when the story will be done, but I learned my lesson long ago. It'll be done when it's done, and not a moment sooner. If I try to box myself into a time, the brain goes blank. Not a pretty picture, trust me. So, keep enjoying Robin's and Renee's stories, and take a peek into my corner occasionally because, sooner or later, I'll have something new for y'all to enjoy. I promise. *Grin*
January 25, 2008
Hey everybody!

Just wanted to let y'all know that there's going to be a complete makeover for the anniversary of TCO, but the unveiling is going to be a little early. Robin started playing around with some backgrounds, passed on a website address or two to Renee and I, and suddenly we were all tweaking our pages with something reflecting our personal tastes.

My little corner suddenly seemed a lot larger, which caused a bit of hyperventilating on my part. I kind of liked hiding in the middle of everything. *Grin*. The Muse, however, thought the whole thing was highly amusing, and began throwing more ideas for the next story my way--which I'm working on at the moment.

So, let me take a moment to say thank you to Shirley for the wonderful banner, to Gloria for the awesome textures to do my backgrounds in, to Yak for the fantastic manips of Cam and Jessie, and last but not least to Robin, for encouraging me, refusing to let me give up, and giving me a place to display my twisted imagination. Love ya, girlfriend!

Hope y'all enjoy the new look...
December 31, 2007
Hey everyone! I hope y'all had a very Merry Christmas, Happy Hanukkah, or whatever other holiday you happen to celebrate. Mine was filled with fun times and happy memories made with my family and friends.
Just to let you know, I have finally finished Karma, the sequel to Favors, which picks up right where Favors left off. You'll also be happy to know that Karma ties up many of those loose ends I had left lying around--lots of questions finally answered.
And yes, the ending I wrote leaves me the opportunity to continue the story line. It might be a while, but if the Muse inspires me, I'll be sure to let y'all know.
September 14, 2007
Hey everybody! I figured it was well past time to post an update, especially since Robin was nice enough to create an update page for me. *Grin*
The continuation to "Favors", tentatively titled "Karma", is coming along slowly but surely. I wish I had Robin's incredible talent and ability to crank out stories like she does, but unfortunately I don't.
Also, the real world has held most of my attention lately. I have a son in tenth grade, active in sports and band, a daughter in first grade, a wonderful hubby, a full time job, four cats, a house, a garden and a yard to take care of. Hence, you will find my updates and stories are a bit on the slow side. I'm working on it, though, and I hope y'all will hang with me for a while until I can get this second story finished.
Thanks for taking the time to check on my corner!
July 14th, 2007
It is my honor, and extreme pleasure to put the first update on Lisa's page! Yep, folks, for those of you who are looking for GOOD Cam Mitchell fan fiction, you have found it! Lisa has created some interesting original characters, and no doubt you'll run into one or two you might recognize. So without further ado, let me announce that Robin K. (Proudly) Presents: "Favors"